Peace Tree Brewing Company
Peace Tree Brewing Company
107 West Main Street, Knoxville, Iowa 50138
Peace Tree Brewing Company is dedicated to brewing handcrafted, full-flavored beers with a great attention to quality.
Our brewery began in 2009 in a former Nash Rambler car dealership on Main Street in Knoxville, Iowa.
Head brewmaster Joe Kesteloot came to us with years of professional and home brewing experience and brought with him a true passion and creativity for developing his own unique recipes.
We held the grand opening for our 20-Bbl brewhouse in March 2010, and within a month, were producing and bottling our brews – hand-delivering them to stores, bars and restaurants around the state.
Since that time, we've grown quickly, adding six more 40-Bbl fermenters to our original lineup of two 20-Bbl and two 40-Bbl tanks. We now distribute across the state of Iowa, as well as parts of Nebraska.
Today, we have 14 full-time employees, who brew, package and sell our products. Our friendly taproom staff work the front lines to ensure you have a great visit.
Brewing great beer is our passion, but we are also passionate about where we have come from and where we are going.
The names of our beers often have connections to the places in our past, especially derived from
Type:

Brewpub

Business Locations:

107 West Main Street, Knoxville, Iowa 50138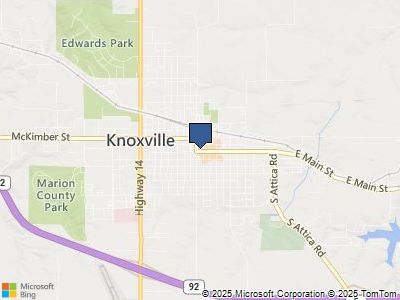 107 West Main Street, Knoxville, Iowa 50138